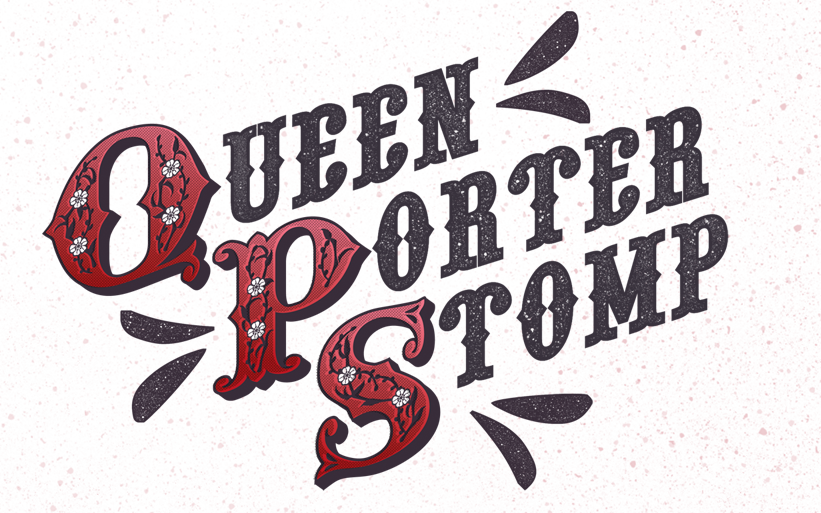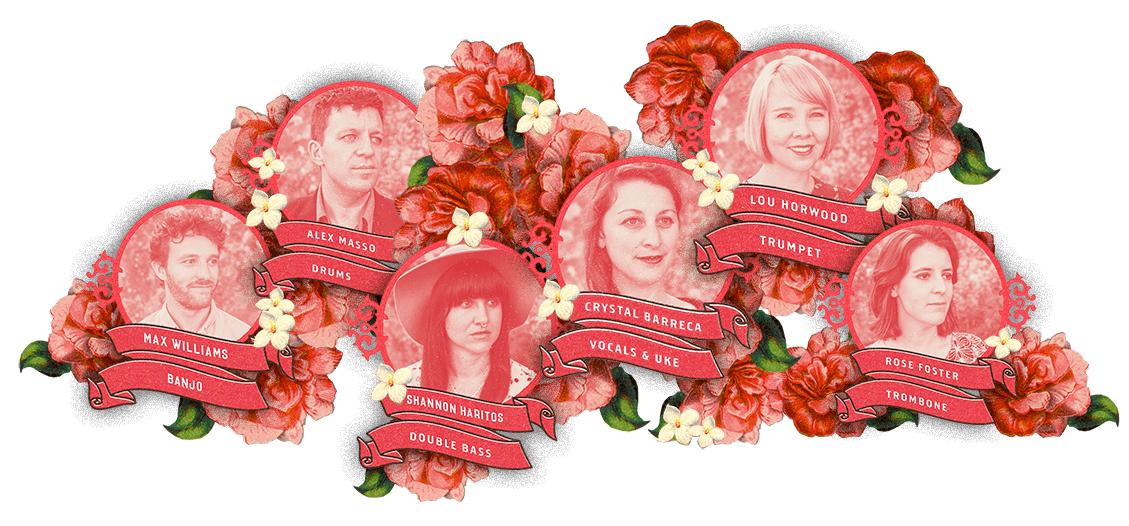 Long bio
Queen Porter Stomp use their dirty swamp magic to shirk those Prohibition blues – swinging skirts and scuffed shoes for hardwood and concrete dance floors alike. This is jazz where swing is the key you play, Melody is your gypsy mistress, and signature is what you're trying to avoid committing to paper until you have a shot of bootlegged whisky. They pack horns that scream straight into your soul, squeezed tight into a caravan they've taken up and down and through the smoke and mud of the festival circuit (like the Falls Festival, Woodford Folk Festival), supporting the hardened and never weary (like Charles Bradley).
Swagger comes from a rhythm section borne of cut-throat jazz chops and a banjo that can exorcise demons on the wrong side of midnight. Amongst all this well honed haze comes the clarity and seduction of the ukulele songstress upfront. Shine those shoes and undo that top button – if you're just tapping those toes, then you're in the wrong bar.
This is Queen Porter's joint.
Short Bio
Raised in the swamps of Sydney's Inner West and bred in the traditions of New Orleans finest music. Queen Porter Stomp feature a wicked mix of ukulele, lush vocals, banjo, horns and drums.
Band members
Crystal Barreca – Vocals/ Ukulele
Louise Horwood – Trumpet
Rose Foster – Trombone
Shannon Haritos – Double Bass
Max Williams – Tenor Banjo
Alex Masso – Drums
Festivals
Illawarra Folk Festival 2016
Woodford Folk Festival 2015
Enlighten Festival 2015, 2016
Newtown Festival 2015
Wollombi Music Festival 2015
Falls Festival 2014
Kiama Jazz Festival 2014
Kangaroo Valley Jazz Festival 2014
Reviews
''This group is well worth it… awesome, upbeat lifting music, it's so good, it's just got such sass about it''
Chelsea Deeley, The New Thing, Eastside Radio 89.7 FM
Music embed codes
BANDCAMP
HTML
<iframe style="border: 0; width: 400px; height: 439px;" src="https://bandcamp.com/EmbeddedPlayer/album=1947689214/size=large/bgcol=333333/linkcol=fe7eaf/artwork=small/transparent=true/" seamless><a href="http://queenporterstomp.bandcamp.com/album/queen-porter-stomp">Queen Porter Stomp by Queen Porter Stomp</a></iframe>
WordPress
[bandcamp width=400 height=439 album=1947689214 size=large bgcol=333333 linkcol=fe7eaf artwork=small]
SOUNDCLOUD
HTML
<iframe width="100%" height="450″ scrolling="no" frameborder="no" src="https://w.soundcloud.com/player/?url=https%3A//api.soundcloud.com/playlists/146552025%3Fsecret_token%3Ds-yOZhh&amp;auto_play=false&amp;hide_related=false&amp;show_comments=true&amp;show_user=true&amp;show_reposts=false&amp;visual=true"></iframe>
WordPress
[soundcloud url="https://api.soundcloud.com/playlists/146552025?secret_token=s-yOZhh" params="auto_play=false&hide_related=false&show_comments=true&show_user=true&show_reposts=false&visual=true" width="100%" height="450″ iframe="true" /]
Video embed codes
Just Come On
<iframe width="560″ height="315″ src="https://www.youtube.com/embed/MZMNU-jkhSA" frameborder="0″ allowfullscreen></iframe>
Garbage Man Blues
<iframe width="560″ height="315″ src="https://www.youtube.com/embed/paBR7YE-gOo" frameborder="0″ allowfullscreen></iframe>
Hot Nuts
<iframe width="560″ height="315″ src="https://www.youtube.com/embed/hVVmylSelks" frameborder="0″ allowfullscreen></iframe>